While we have now entered the second half of 2021, we take a look back at the Best Hindi movies of 2021 that were released in the second semester of the year. In the year 2021, cinemas reopened for a brief while, and a few films were eventually released on the big screen. However, as the terrible second wave of the coronavirus hit India, cinemas were once again had to shun down. Many big pictures were released on small screens, while a large number of minor films captivated the public. The dispute over the content and the means through which it is delivered continues.
Although we may not run into the cinema to watch blockbuster movies together, the film industry is still working hard. It's not just Hollywood-Bollywood also has released many good titles this year.
You might be interested: Highest Paid Actress in Bollywood
Bollywood Best Hindi Movies of 2021:
1. BELLBOTTOM
Akshay Kumar brings back entertainment to Cinema Halls.
(6.5/10 IMBd Rating)
Akshay Kumar's movie embraces more patriotism worthy with turns of plots that can be marked on the big screen. BellBottom movie of Akshay Kumar is out in theatres now starring Vaani Kapoor, Lara Dutta and Huma Qureshi in significant roles is one of the first large-scale Hindi films to launch in theatres national after the second wave of the pandemic. The movie shows Akshay as a covert operative, who saves the 210 passengers of an Indian plane that was hijacked in the movie.
A movie based on and truly inspired by the true events, BellBottom is the third such release –after the movies Bhuj: The Pride of India and Shershaah. BellBottom definitely takes only a notch higher with its well-written script, impressive screenplay, and very impactful storytelling with no iota of jingoism which can leave a bad taste for any of the movie lovers. Among more important things in the movie is the performance of every actor. Lara Dutta's makeover as former PM Indira Gandhi is terrific in every sense be it her either mannerisms or dialogue delivery. She has very confidently pulled off playing the role of the most exemplary political leader of the nation. Vaani Kapoor has acted as a charming onscreen wife of Akshay and in a film which is mainly about R&AW agents and politicians, she has complemented her character as well.
A must-watch movie as it could leave you scratching your head thinking that Anshul(Akshay Kumar in the movie) appointment at the R&AW, and the entire story behind it. Not giving any spoiler here, but it does make you wonder how easy it is to get into one of the country's premium intelligence agencies. Not to give any spoilers here, but it leaves everyone wondering how easy it is to enter the country's premium intelligence agencies.
2. THALAIVVI: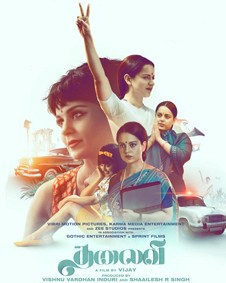 Story of Jayalalithaa's life aced by Kangana Ranaut
Our Rating: 

(5.4/10 IMBd Rating)
Kangana Ranaut is playing a key role that aces Jayalalithaa's life in the movie. It is packed with very solid performances and attention is given to period detail, but is surely let down due to its length and gives incomplete-feeling of the story.
If you go to watch this movie thinking to get to see the turbulent journey of  Jayalalithaa as a politician who has held power for years continually while serving six times being Chief Minister of Tamil Nadu. But, in the movie Kangana Ranaut- has acted well to reflect how a naive Jaya had been transformed into so formidable – "an Amma to millions". Director Vijay has tackled various aspects of her life showing to Jaya's followers who may have never got to know so closely.
Thalaivii is a well-laced movie with songs and dance sequences and is extremely focused to get the look and accent of the characters to take you to a different era. Kangana Ranaut has worked very hard to bring the actual subtle grace and charm of Jayalalithaa on-screen but it seems the movie fails to do justice to the actress in her.
But we cannot say that Thalaivii is only about Jayalalithaa, it is also about her relationship with MGR. The one thing that the director must have done a little more mindful of is the length of the movie. In 153 minutes, the movie is too long and poorly paced in its first half. And for the audience, those who wish to see the journey of Amma as a politician and the way she served the people, well, maybe Kangana must have been considered to do part two, as Thalaivii gives an incomplete feeling in itself. Overall movie is a must-watch,  and the hard work of Kangna with the strong storyline makes it above the average. You can also see Thalaiva movie Rating above whether you can decide to watch.
3. NAIL POLISH:
As a restrained and compelling psychological thriller, Manav Kaul shouts subtlety.
Our Rating: 



(7.3/10 IMBd Rating)
Nail Polish explores issues of sexual assault that are rarely shown in Hindi cinema or in Indian society. The captivating edgy narrative of this intriguing crime-legal thriller lasts all the way to the end. It's a murder mystery with unexpected turns that delves into the human mind like never before. A lawyer and his client become engaged in a murder mystery that easily transitions into the region of prior trauma, dual personalities, and dubious redemption. Manav Kaul gives an outstanding performance.
But few elements are overblown and a number of facts are hazily presented, but Nail Polish, buoyed by a magnificent performance from Kaul and nicely supported by the rest of the star cast, keeps the audience engaged despite the occasional eye-roll. It's amazing to see Madhoo back on the big screen. That's an added advantage.
4. RAMPRASAD KI TEHRVI:
A relatable, well-performed slice-of-life story
Our Rating: 



(7.3/10 IMBd Rating)
With this social drama, in the movie Seema Pahwa who has turned director, focuses on an extended family that unites after the death of its father, and how the relationships actually change due to petty politics and insecurities. The film, which had a fantastic ensemble cast, touched on numerous regressive social stigmas and values, as well as grieving rituals, as sorrow takes a back seat and suspiciousness takes center stage.
The hectic family portrait which expertly has been put together by Seema Pahwa, has many moments where it meanders, or, to borrow Ramprasad's expression, feels a little out of the way but it quickly finds its rhythm, invoking genuine emotions with their simultaneous effect. This movie is not only about death but also about life and its resiliency, which shows that the end is only the start of something new and appreciable. Ramprasad Ki Tehrvi is a theatrical release that is well worth the time and effort.
 5. SHERNI
Sherni has a strong impact without being too vocal.
Our Rating:


(6.8/10 IMBd Rating)
To say the least, this Vidya Balan film features two tigresses. Sherni, a contemporary issue addressed in a unique way, is about the supremacy of nature and human greed, with the stamp of Amit Masurkar's on it. In fact, it seems to take off immediately Amit's previous Newton.  Forests, four-legged creatures, and a roaring Vidya are all present. "Sherni" takes us deep into the forest, through the exciting and thrilling Tiger Trail and also brings us ironic humor. Even if you immerse yourself in the wonderful beauty of the forest, Masurkar's powerful film about wildlife protection and preservation of the ecological balance leaves an unforgettable message in the end. "Sherni" is definitely an exciting and fascinating film that is well worth watching. If you expect the roar and rumble of an ordinary Bollywood movie, this movie is far from it. But that's the beauty of it.
 6. SANDEEP AUR PINKY FARAAR:
In the film starring Arjun Kapoor and Parineeti Chopra, two worlds collide.
Our Rating: 


(6.3/10 IMBd Rating)
The movie is the drama of the dark comedy that follows Pinky, who saved Sandeep from the clout of attackers but only on the surface. Eventually, the story is revealed with a history of class division, corporate greed, misogyny, and privileges, with the protagonists belonging to the opposite worlds, fighting for coexistence. We'll never forget the opening sequence, which shows how the movie picks up speed immediately.
Banerji, whose subtle eye for capturing power struggle and class disparities in the NCR, as well as the covert and overt violence that flows up and down the ladder, is unrivaled, has given us a more tightly wound film.
7.  TRIBHANGA:
A poignant and empowering tale of a mother and her daughters
Our Rating: 


(6.1/10 IMBd Rating)
Renuka Shahane's directorial debut has a noteworthy star cast, including Tanvi Azmi, Kajol, and Mithila Palkar, who has played three generations of the flawed women in a broken family. The movie explores their quest to become the perfect parent despite their own unusual life choices. Netflix movie has received mostly praise for Shahane's director and performance.
Tribhanga is a fun, thoughtful, and well-acted feminine emotional film, just as unconventional as the story of three women it tells. It's a movie enough for female characters to describe marriage as "social terrorism," for Tanvi Azmi's graceful onscreen image, or for the way Shahane has presented a poignant take of a woman with an excellent soundtrack by Sanjoy Chowdhury in the background.